ABOUT US
Play Project is an organization dedicated to expanding knowledge of parkour and its benefits, as well as building the parkour community.  We accomplish these goals locally in Burlington, Hamilton, Oakville, and Stoney Creek by teaching a variety of parkour classes, hosting parkour related events, and doing parkour performances.
We also have an international reach. Our coaches have taught workshops and performed in New York, Florida, Kentucky, Germany, Portugal, Washington D.C. and more.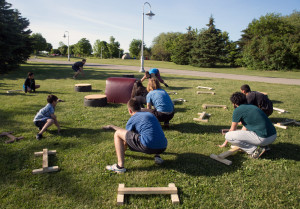 WE MOVE.
We move at all ages.  Young, old, different shapes, different sizes, the one thing we have in common is that we all move.  Our classes are fun and accessible for everyone and are sure to engage you in both a physical and mental capacity.  You can find more information about regular classes here.
WE EXPLORE.
We explore movement to develop an understanding of what the human body is capable of.  We are proud to showcase this potential to its fullest extent through our parkour shows and performances.  To read more about our different performance options click here.
WE PLAY.
We play safely in all of our school programs. There are a variety of different options to incorporate parkour into the school environment, ranging from one-off workshops to regular gym class substitutes. You can find more information about our school programs here.
Our Team
Play Project works with many talented instructors and coaches, here are some of the main faces you'll see:
Play Project Parkour – Fall Programming 2016
Duration: 10 weeks of programming.
Start Dates: September 29th, 30th, October 1st, 2nd.
Finish Dates: December 8th, 9th, 10th & 11th.
Locations:
-Spencer Smith Park – 1400 Lakeshore Rd, Burlington
-Pier 4 Park – 64 Leander Dr, Hamilton
-Supreme Cheerleading – 845 Harrington Crt, Burlington
Logistics: For the first 6 weeks of the session, each parkour class will be held outdoors in their respective parks (Spencer Smith in Burlington and Pier 4 in Hamilton).  For the remaining 4 weeks of the session (starting Nov. 10th), all classes will move indoors to Supreme Cheerleading in Burlington.
Cost: $190.26 + tax ($215.00 total).
Inclement Weather Policy: If outdoor classes cannot be run due to weather, those classes will either be relocated to Supreme Cheerleading in Burlington, or an extra week of classes will be added at the end of the session.
Final Details: A final details email will be sent out to all the registrants the week before class.  The email will include information such as meeting locations, what to wear, what to bring, etc.
Cancellations: October 6th, 7th, 8th & 9th for Thanksgiving.
T-Shirts: Play Project shirts are available for sale for $20/shirt.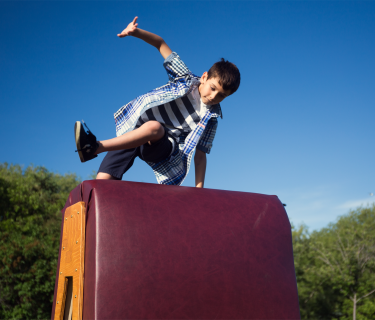 Burlington – Thursday Schedule
-Youth – 9-12y – 4:00pm-5:00pm [FULL]
-Teen – 13-17y – 5:00pm-6:00pm [1 spot]
Burlington – Friday Schedule

-Kids – 6-8y – 4:00pm-5:00pm [FULL]
-Youth – 9-12y – 5:00pm-6:00pm [FULL]
Hamilton – Saturday Schedule
-Kids – 6-8y – 2:30pm-3:30pm [1 spot]
-Youth – 9-12y – 3:30pm-4:30pm [FULL]
-Adult – 18+ – 4:30pm-5:30pm [3 spots]
Burlington – Sunday Schedule
-Kids – 6-8y – 10:00am-11:00am [FULL]
-Youth – 9-12y – 11:00am-12:00pm [FULL]
-Teen – 13-17y – 12:00pm-1:00pm [FULL]
-Teen – 13-17y – 1:30pm-2:30pm [FULL]
Burlington – Sunday Schedule (Continued).

-Advanced – 9-12y – 1:30pm-2:30pm [FULL]
-Youth – 9-12y – 2:30pm-3:30pm [FULL]
-Kids – 6-8y – 2:30pm-3:30pm [FULL]
-Youth – 9-12y – 3:30pm-4:30pm [FULL]
Other Programming Options
-Private Lessons
-School Programs
-Parkour Performances
-Parkour Workshops
-Birthday Parties
-Parkour Stunts/Media Services
For more information about our programming, please contact us or send an email to playprojectparkour@gmail.com. If you are interested in our programming but do not see an option that suits your needs, please get in touch with us and we will work towards creating a programming option that is specifically catered to you.
Play Project 2016 Cancellation Policy
If a participant would like to drop out of the program or class that they are registered in, the following refunds will be applied:
-After first week of class – Participant is refunded $180.00.
-After second week of classes – Participant is refunded $145.00.
-After third week of classes – No refunds will be issued.
If you have registered in our programs before and you have already created an online profile, please log in to the Play Project registration website and skip to step 8 on the registration checklist below.
If you are new to our programming please follow the steps in the registration check list below:
Click here to open up our Play Project registration website.
Enter your first and last name in the "New To Our Site?" forum on the right, then click next.
Fill in all of the Contact Information forms for yourself.
Fill in the Log In Information forms and create a password that you will use to log in to our site every time you register yourself or your children.
If you are registering your children, click the "Add Family Members" option and add in information for your children, be sure to select the "paid for by…" option to "yes" and be sure to include your child's date of birth.
Scroll down, reading the liability waiver as you scroll.
If you have read the waiver and agree to the terms, click the check box that says "I agree with the above terms," then hit the "Create Account" button.
You should now be on your account's profile page.  All of your information that you just entered will be displayed under Personal.  To navigate your account you can use the menu bars on the top right.
In order to register yourself or a child in any of our programs, click the "Enrollments" tab in the topmost menu bar.
The "Enrollments" page lists all of the different programming options that we offer, as well as information about each program, such as the day of the week, the description, a start and end date, and the time of the programming.
Now you can scroll down to the program that you like and click the "Sign Up Now" button.
If you are having difficulty finding the program you are looking for, you can search for the one you want by clicking the "All Class Types" drop down menu at the top right of the page and selecting the age group or program type that you are trying to find.
Once you have clicked the "Sign Up Now" button on the program in which you would like to register yourself or your child, there will be buttons that say "Enroll With Credit Card (Currently Unavailable)" or "Enroll."  Click "Enroll,". Since we currently do not offer payment via credit card, you will be paying by one of the methods that we highlight below (in step 16).
If you try to register for a program that has different age requirements, our system will not allow you to do so, and instead of "Enroll" or "Enroll With Credit Card (Currently Unavailable)" options, there will be text that says "[Program Name] has a reservation prerequisite that isn't reflected in your information at Play Project.  If you feel you meet the prerequisites, please contact Play Project."
NOTE: Some participants have been cleared to register in different age groups based upon family logistics, or skill level.  If you are one of these participants, please email us at playprojectparkour@gmail.com and our administration staff will register your child accordingly.

Once you have enrolled your child/yourself as unpaid, the "My Schedule" page will open and it will show all of the weeks of the class you have registered for.
Now that you have registered the participant's spot in our program, you can pay for the program.  The programming that you choose will have the price listed in its description, as well as on the Services section of this website.  We require payment before, or on the first day of programming.  If you are registering for our fall classes the total amount is $215.00 ($190.26 + tax), the accepted methods of payment are as follows:
– eTransfer – You may send an eTransfer to playprojectparkour@gmail.com
– Cheque – You can mail a cheque (made out to Play Project Inc.) to 61 Randall Avenue, Stoney Creek, Ontario, L8G 2K8.
– In Person – In situations where neither of the above two payment methods are possible, you can also pay on the first day via cash or cheque.  If you choose this option, please email playprojectparkour@gmail.com so that we are aware you will be paying on the first day.
When we receive your payment, we will process it and update the payment status on your Play Project online account.  That way you know when we have processed your payment.  To verify the status of your payment, you can log in to your account, and click My Info -> Account.  If your payment has not yet been processed, it will say "Unpaid Burlington Classes".  If your payment has been processed. it will show under My Info -> Purchase History.
Once your payment has been processed and you are registered, everything is complete.  Be sure to check your email inbox and junk mail during the week leading up to the participant's first class, since we will send out further class details such as what to bring on the first day and any special notes during that time period.